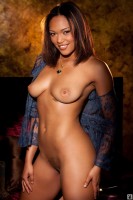 With the release of her first adult film, 19-year-old celebrity offspring, Montana Fishburne is in the center of the media spotlight and admits that is exactly what she wanted. She is impatient for fame and aspires to be like Kim Kardashian who became better known after her sex tape surfaced. She is hoping that getting undressed will get her noticed. So far, her plan is working out wonderfully!
Now Playboy has uncovered some test shots she did for them under the alias of "Chippy D" and her soft all-natural body is getting even more notice.
In this pictorial, Montana sheds the lace top from her supple breasts, exposing her nipples and smiling with fresh-faced charm. She doesn't wear any bottoms either, so her perky butt and smooth cooch are also in view.
See the Nude Montana Fishburne Playboy Pictorial
And then check out the Montana Fishburne Vivid Sex Tape
Thanks!
You've already liked this