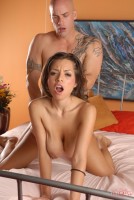 When we posted this entry back in March about Yurizan Beltran crossing over into hardcore porn, there was a lot of skepticism over the reality of the cock. As it turns out, that was just a tease of the things to come.
Today we announce the real deal and there is no doubt about the authenticity of the dick that she takes into her plump mouth and hot cooch. You can see the balls slapping up against her as her giant natural boobs bounce to-and-fro with the rhythm of the fornication. She is a carnal Latina who unleashes her inner sex tiger with ferocity!
Well, well, well I finally decided to do it… I broke my video cherry with a hot hardcore scene for all my loyal members here at YuriLuv.com!!! We kick this hot all exclusive scene off with the usual Hollywood set interview, lots of kidding around and fun talk, but wait it really gets steamy fast! I don't just do a soft hardcore scene with Derrick but we actually do everything together, and I do everything to him for all of you! I mean everything! So take out your stiff cock and start to stroke, Im sure you will be able to cum at everything we do, from me getting ate out, to sucking on his stiff cock, to fucking and the incredible money shot at the end!
ENJOY MY FIRST EVER HARDCORE BOY GIRL SCENE! Luv Yuri! xoxoxo!!!!!
This is the real deal, folks. She even takes a creamy load onto those infamous breasts of hers at the end!
Enjoy the very first Yurizan Beltran hardcore boy-girl video and check out the explicit pictorial that goes with it.
Once you've recovered, leave a comment and let us know what you think. Is this the type of Yurizan action that you have been waiting for? Or do you prefer softcore Yurizan Beltran?
Thanks!
You've already liked this