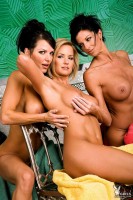 It's not every day you see a title indicating Playboy — the world's foremost milquetoast nude mag — has ventured into the ever erotic realm of girl on girl sensuality, and then add a third member for good measure. But this is exactly what they have done.
The gorgeous ladies in this sexy trifecta are proof positive that women in their 30s are sassy, sultry and willing to express their sensuality because they are extremely comfortable in their own skin.
In this set, Playboy has really found a winning combination of three very sexy wives as they disrobe and explore one another's bodies, before slipping into the bathtub to enjoy some further time together.
Thanks!
You've already liked this